https://dat.maryland.gov/about/Pages/SDAT-Leadership.aspx
https://www.merriam-webster.com/dictionary/assess#learn-more
SDAT Leadership
​Director Michael Higgs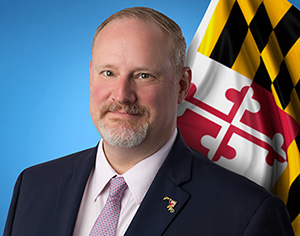 Michael L. Higgs became Director of the Maryland State Department of Assessments and Taxation (SDAT) in December 2016. Prior to being appointed Director of SDAT, Higgs served as the Deputy Director from September 2015. In addition to serving on Governor Larry Hogan's Cabinet, Director Higgs also has or currently serves on the: Governor's Commerce Subcabinet, Governor's Smart Growth Cabinet, Governor's Small Business Taskforce, Governor's Rural Broadband Steering Committee, and Legislature's Deed Recording Taskforce.
During his time at SDAT, Director Higgs has focused on Changing Maryland for the Better by streamlining processes, modernizing technology, and establishing a culture of customer service and professionalism throughout the agency. Director Higgs has overseen the successful streamlining or replacement of numerous paper-based processes with digital and highly accessible technology while maintaining legacy systems. The Department's award-winning online business portals, Maryland Business Express and the UCC Filing System, are helping Marylanders by allowing important business documents to be conveniently filed online while increasing efficiency and dramatically reducing processing times. The Department has also been digitizing outdated documents on microfiche and scanning tens of thousands of documents received each month, so customers can easily view and download their business filings online.
In 2018, Director Higgs unveiled the new Maryland Business Express website at Governor Hogan's Southern Maryland Regional Cabinet Meeting, which has made it easier than ever for Maryland's small business owners and aspiring entrepreneurs to plan, start, manage, and grow their business. By breaking down government silos, Maryland Business Express has combined information previously spread across many state agencies into one easy-to-navigate site. The site even features a unique digital chatbot assistant designed to communicate with and deliver guidance to Marylanders 24 hours a day, 7 days a week. This "Chatbot" is the first of its kind to be used by any state government for business purposes. Since its launch, Maryland Business Express has received over 7 national and international awards.In an effort to better manage the many changes necessary to improve the functioning of an agency with almost 600 employees spread across 25 offices, Director Higgs has worked to institute an agile mindset among leadership and management, which have substantially improved internal communication and coordination among the Department's numerous programs.
Prior to joining the Department, Director Higgs privately practiced law for over 18 years. He served both commercial and governmental clients in transactional, corporate, regulatory, and real estate matters, specializing in the fields of telecommunications and cyber security. Director Higgs received his B.A. summa cum laude from University of Maryland and his J.D. from The George Washington University Law School. He currently resides in Montgomery County with his wife and two children.​
Human Trafficking GET HELP
National Human Trafficking Hotline – 24/7 Confidential1-888-373-7888233733More Informationon human trafficking in Maryland
Customer Service Promise
The State of Maryland pledges to provide constituents, businesses, customers, and stakeholders with friendly and courteous, timely and responsive, accurate and consistent, accessible and convenient, and truthful and transparent services.
Help Stop Fraud in State Government
The Maryland General Assembly's Office of Legislative Audits operates a toll-free fraud hotline to receive allegations of fraud and/or abuse of State government resources. Information reported to the hotline in the past has helped to eliminate certain fraudulent activities and protect State resources.More Information
The #ASSESSEES: https://www.facebook.com/NewApostolicChurchBaltimore